Customizable Yellow-style portrait
Give the person you love a unique and inimitable Yellow Portrait made by a real artist.
Are you looking for a special gift to surprise someone you care about a lot? This is the perfect idea for a birthday, an anniversary, a graduation, a business success. Giving a picture that you can hang will leave everyone speechless and an indelible memory in everyone's heart.
The delivery of the Yellow Portrait takes place 4 or 5 days after the purchase and arrives by mail, without any shipping as the drawing is in digital format. You won't have to worry about anything

This is a Digital Portrait, made with the highest quality compatible with any latest generation device.
Having a Digital Design gives you the convenience of being able to keep it anywhere, on your phone or on a Hard-Disk where you keep your memories. You can also insert the image into an electronic usb photo port or you can make it appear large on your 50 "TV as a Screen Saver.
If you order the canvas you will have the best print quality on the Italian market and a beautiful keepsake to hang in your home.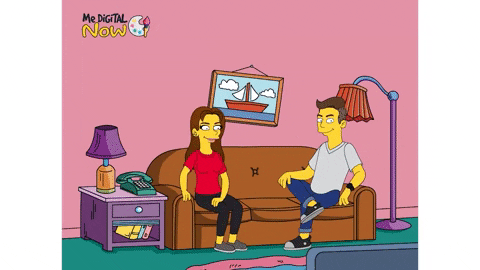 How to Order the Yellow Portrait:
Select the number of people / animals to include 

(animals and cars count as people)

Select if you want the half-length or full-body portrait
Select the type of wallpaper:
Add notes for our artist 

(describe details, pose, hair, beard, expressions, clothing, background etc ...)

Upload 1 to 4 photos to best capture your features. We also accept collages. If you need to send more photos send everything via email (zip file possibly).
Select Print if Digital or on physical product and make the payment securely. Within 4 or 5 days, you will receive the Simpson Style Drawing you requested by email. You have access to 3 revisions before concluding the project.

Yellow Portrait Size: 4800x3600 pixels 300 dpi
You can print the Painting with the Portrait in any format since the quality is very high, we recommend 45x30 cm. You can do it from us via This Page or from a local printing house. If you do not know how to do it, do not hesitate to contact us at info@medigitalnow.com
Use the same email to send more photos in case you have not been able to upload a number that makes you feel confident that you are portrayed at your best.
Once you have received the design by email, you have access to 3 revisions, in case there is any detail to change.
If you have selected the canvas or poster takes 5 days from the confirmation of the digital drawing to receive the yellow portrait directly to your home.
If you need other types of printing besides the visible ones, do not hesitate to contact us, we have a wide choice of customizable products.
Relying on digital experts is the right choice to obtain a high quality result. We do this job with love and dedication, thank you for choosing us.
High quality Italian service, beware of imitations
In our team we have some of the best Cartoon Artists in Italy and they will be at your service to create a real work of art. If you are looking for high quality details and true likeness to the characters, this is the place for you. Me Digital Now Staff will follow you from the beginning to help you with the ideas in the project. We seek the utmost satisfaction and happiness of our customers. Turn into Cartoon now with us!